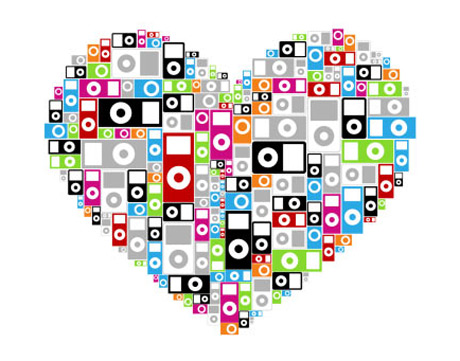 Since the epic 7 hour journey from Middlesborough to Bethnal Green on Friday, I've started becoming addicted to something I've never done before - that's right, listening to my iPod.
Those that know me know that it's vinyl all the way with me and that I don't really listen to music on my laptop (only got into last.fm when everyone else was already on Spotify) or whilst I'm on the go. I've always used travelling time as time to think a lot, read and do anything but listen to music. I suppose it's the few hours a day I break myself away from it.
Anyway all the above is now poo as since Friday I've been iPod hooked on every journey I've done.
Here is the latest favourite playlist:
Before We Begin - Broadcast
Black/White - The Raveonettes
Ceremony - New Order
Everybody's Talkin - Harry Nilsson
Eighties Fan - Camera Obscura
Feel Like A Woman - Selfish Cunt
Floyd the Barber - Nirvana
Gingerbread - Frankie Avalon
Hey - The Pixies
I Know I'll See You - A Place To Bury Strangers
I Wanna Be Your Dog - The Stooges
Passover - Joy Division
Spooky - Dusty Springfield
Ubasti - Futurism Vs Passeism
And also a load of Bird songs including Smear, Only In Death, Silent Hour, Violets of Dawn, False Fright and Just Walk.
I couldn't find Frankie doing Gingerbread but here's him and the amazing Annette Funicello doing what they do best:
I need loads more songs! Let me know what you're listening to and feel free to share your ultimate playlists!
D-Bird