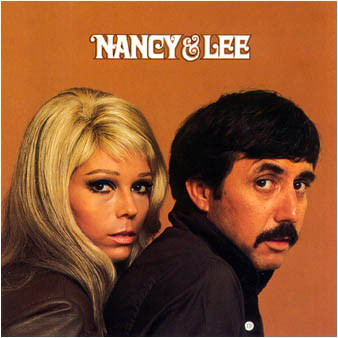 I love male and female vocals - from the beautiful harmonies of The Raveonettes to the harsher raw quality of The Pixies, I have a list of bands that do this and do this so well.
Starting off with Lee Hazlewood and Nancy Sinatra - Hazlewood embodied everything masculine and Sinatra embodied femininity at its highest form. Hazlewood's grainy, husky voice in contrast to Sinatra's dulcet tones set up a musical partnership that has never really been matched.
'Summer Wine' is a personal favourite alongside the heavily covered, 'Some Velvet Morning'.
Jumping forwards to the 1980s, my love for The Vaselines emerged after hearing Nirvana's 'Incesticide' EP in which songs like 'Son Of A Gun' and 'Molly's Lips' were covered. Here's a clip of Nirvana doing 'Molly's Lips' with The Vaselines' Eugene Kelly on guest vocals.
I also love the collaboration between Jesus and Mary Chain and Mazzy Star - two of my all-time favourite bands:
My good friends The Raveonettes remain a close source of inspiration and Sune and Sharin's voices are perhaps the most musically entwined I've ever heard. At times it's hard to differentiate who is actually singing and I think that makes them all the more fascinating. Their harmonies are tremendous and I love what they do so much.
Mark Lanegan and Isobel Campbell's project has also been really inspiring. I've always wanted to do a male/female vocal semi-acoustic project and this is something I'll certainly give more time to in the future or perhaps we may even recruit a guest male vocalist for The Birds at some point....
D-Bird